OMRON's Value Design Products Increase the Value of Your Control Panels.
OMRON uses our shared Value Design for Panel concept for the specifications of products used in control panels in order to create new value to control panels.
Value Design for Panel
Downsized Control Panels with Unified Slim Design
Unified slim design reduces dead space in control panels. This helps downsize control panels.
Side-by-side Mounting at an Ambient Temperature of 55°C for Easier Addition of Devices
Side-by-side mounting at an ambient temperature of 55°C enables installation without wasted space.(*Applicable only within the same series.)
Adding devices to meet user requirements is easier too.
Push-in Plus Terminal Blocks Enable Wiring By Just Inserting Wires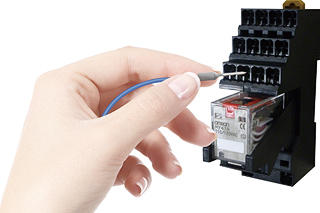 Push-in Plus Terminal Blocks which were independently developed by OMRON are used. This makes it easy to insert wires yet hold the wires firmly. No tools are required, just insert the wires and wiring is completed. These Terminal Blocks greatly reduce wiring work.
Friendly to Wiring Operators: Front-in and Front-release Wiring
Terminal holes facing forward make it easy to insert wires. This makes wiring work smoother.
CE, UL, and CSA: Safety Standards Certified To Facilitate Global Shipment
These products are certified for CE, UL, and CSA standards. This makes control panel certification for standards more efficient. And it speeds up shipping overseas too.
Related solution
Control Panel Building that Goes One Step Ahead Bring New Value to Control Panels

OMRON promotes an approach to Control Panels, Processes, and People for control panel building that creates new value in order to achieve control panels that go one step ahead.