Side-by-Side Mounting Helps Downsize Control Panels.
To downsize a control panel, it is important to select small devices to install in the control panel, but the installation spacing between those devices is also important. Products that require wide installation spacing will require a large amount of space for installation, even if the product itself is small.
The Ultimate Goal Is to Reduce Installation Spacing to Zero by Side-by-side Mounting.
OMRON considers side-by-side mounting to be a requirement for innovatively downsizing control panels, and all products of the Value Design product group can be mounted side by side.
* Side-by-side Mounting is applicable only with the same series. Refer to the individual datasheets for details.
Power Supplies Can Also Be Mounted Side by Side.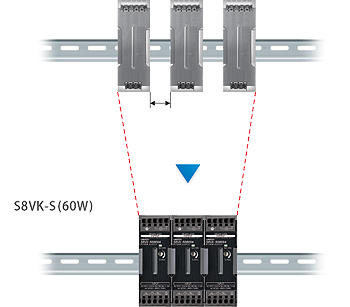 Power supplies have been difficult to mount side by side because they handle large amounts of power and generate larger amounts of heat than other control devices. The S8VK-S-series Power Supplies of the Value Design product group can be mounted side by side at 55°C in the same manner as other products.*1 This allows for an approximate 30% reduction in installation space when compared to previous Power Supplies.*2
*1. Refer to the derating curve in the S8VK-S datasheet for details.
*2. Comparison with previous OMRON Power Supplies.
OMRON's Low-loss Design and Thermal Control Technology Allow Side-by-Side Mounting of Power Supplies.
Technology developed for the S8VK-G has been advanced even further to reduce switching loss and to reduce the loss from heat-generating components, such as transformers and diodes. This has enabled downsizing and high-density mounting of mounted components.
OMRON's unique thermal modeling knowhow was used to establish fast and accurate thermal simulation methods. The result is optimum component layout with controlling heat flow. By optimizing the shape and size of the heat sink, both downsizing and side-by-side mounting of the Power Supplies was achieved.
Related solution
More-advanced Control Panels

There is an increasing number of cases in which many devices are mounted inside control panels in order to attain more-advanced equipment functionality. To add devices in the limited space of a contro