Reduce Work with Terminal Block Support Tool
Tool Main page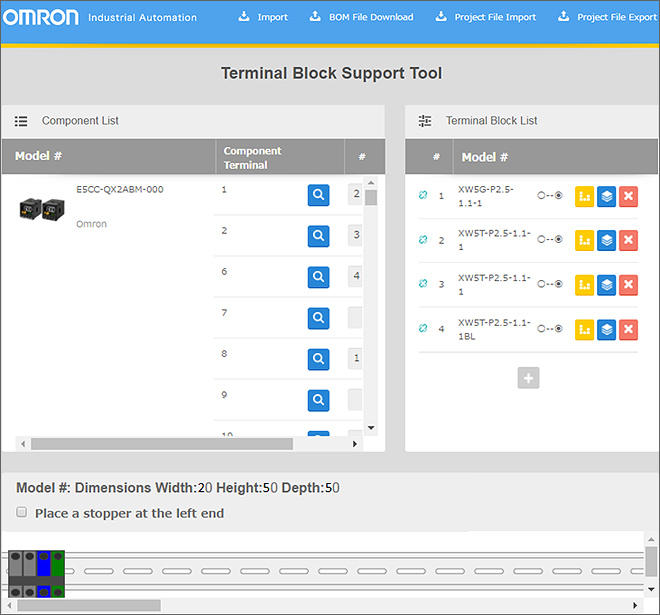 The time and effort of selecting Terminal Blocks, checking the installation space and applicable wires, and marking can be reduced so that you can easily and efficiently select the Terminal Blocks required to wire your devices.
You can import BOM from the Panel Assist Web to automatically see the electrical specifications and applicable wires for the selected devices. This frees you from the trouble of checking the specifications for each device in catalogs and datasheets.
We have also carefully designed this system so that the End Plates, Separator Plates, Short Bars, and all other accessories used with the devices that you select are displayed along with it so that none of them will be overlooked. And the external dimensions and images are also displayed.
Please experience the convenience of this system for yourself.
Selection page
The following information of products included in the BOM can be selected easily.
・Electrical specifications of devices
・Terminal Blocks that can be connected
・Accessories that can be used together with the selected Terminal Block
Check of the external dimensions
You can check the external dimensions (length, width, and height) of the selected Terminal Blocks.
Assist of marking

The marking numbers for the selected Terminal Blocks can be assigned easily.
Related solution
Prior Checks on Risk of Thermal Issues Using Thermal Simulation Tool

You can understand the risk from heat inside a designed control panel by just inputting basic control panel information and information on the selected devices. Importing BOM from the Panel Assist Web